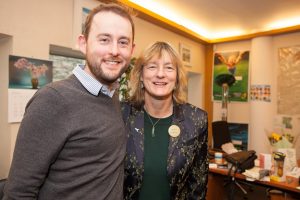 The Dublin South Central Green Party Constituency Group has selected
Ed DAVITT to be their candidate in the next Dail Election.
Ed has a long history in Irish and Green politics. Some snippets from his past:
(Mon 13 Sept 2006 Irish Times) The great grandson of the founder of the Land League Michael Davitt has been elected chairman of the youth wing of the Green Party. Edward Davitt (26) from Ranelagh in Dublin was elected chairman of the Young Greens at the organisation's annual conference in Galway yesterday. A student of history and European affairs, he said he was the first member of his family to become politically active in recent years, despite his family heritage. His great grandfather's political ideology sits well with the Green Party, he said.
2011: Ed took a big Green Bus from London to the Green Summer University in Frankfurt am Oder in the summer of 2011, before his year as Junior Press Officer for the European Greens in Brussels followed by his move to Greenpeace EU Policy Unit also in Brussels. "I was even more adamant that I wanted in to the world of European Green politics". While in Brussels he stood for the Senate election, on the Trinity College Dublin panel advocating for emigrant voting rights but was not elected.

Ed Davitt – Crumlin-Kimmage (including South-West Inner-City)
Oisin Ó hAlmhain – Ballyfermot-Drimnagh ward 
Oisín is a father of 3 living in the railway estate in Inchicore who has been involved in green issues since 1992 when he and other students successfully lobbied Trinity College to introduce glass recycling. Other achievements include being a founding member the monthly Dolphin's Barn Canal cleanup and involvement with the Inchicore-on-track campaign, and has long been an advocate for buying locally from independent retailers.
He is an experienced hospital pharmacist, having worked for over a decade in state hospitals with a brief period spent in a mission hospital in Uganda. Currently he holds the Health spokesperson portfolio for the Green Party.
As a champion of next generation democracy, Oisín is trying to empower residents across the city by promoting the use of sites like www.SeeClickFix.com and www.FixMystreet.ie to get citizens problems solved in a transparent manner.